Back to all posts
Posted on
Meet our resident author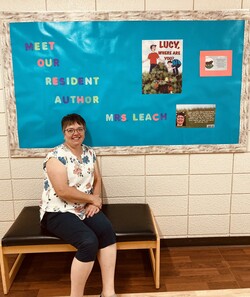 Mayerthorpe High School is proud to have our own, 'freshly minted' resident author, Laura Leach, highlighting the talent in our community. 
Four years ago, Laura decided to take her artistic skills to the next level.  While she had a lot of experience as an artist working for the Mayerthorpe Freelancer as an editorial cartoonist, she wanted to challenge her craft.  She bought an iPad and started experimenting with digital media.   
While being at home during the pandemic lockdown in 2020, Laura decided that it was time to fulfill a promise she had made many years ago to her children: she would one day write a children's book about Lucy, their pot bellied pig.  Armed with this specific skill set and a desire to utilize her down time during the pandemic, she decided on a story line.  "I researched book writing and plotting storyboards.  After receiving the blessing of my husband and family, I put all of my ideas down to share a story about an extremely smart pig, who was able to understand sign language and who was very much a trickster. One year later, my book is on sale." 
Laura's book is titled: Lucy, Where Are You?  The story is about two boys, Brad and Ryan, who need to feed all of the animals before breakfast.  What seems like an easy task quickly turns into a frustrating morning with an unexpected but hilarious ending. It is a beautiful story of life on a farm for children of all ages to enjoy - as demonstrated by the great response from our own MHS students. We are so proud of Mrs. Leach. 
Laura's children's book and supplementary children's colouring book, is available on Amazon as well as at Barnes and Noble.