Tigers Volleyball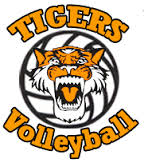 Volleyball Team Rosters
Welcome to another season of " Tigers" Volleyball.  This year we have a full roster of teams with both boys and girls teams at the Junior and Senior level.  In the past our volleyball teams have been some of the strongest in our area and this year looks to be no different.  Lets get out there and support the Tiger Nation and cheer on our teams to victory...
All league games and tournaments, along with G.C.A.A. and Zone dates have been added to our calendar. 
Please note that these dates may change if unforeseen circumstances arise.