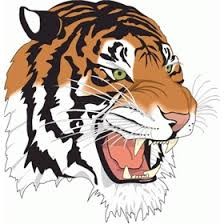 Mayerthorpe Athletics
The Tiger's Core Covenants                       
T- Teamwork               
I- Integrity              
G- Greatness              
E- Effort                
                                                             R- Respect               
                                                             S- Sportsmanship
 In order to participate in extra-curricular activities, a student must meet the following requirements:
I.      GCAA and ASAA rules and procedures for High School Sports.  GCAA rules and procedures for Junior High School Sports.
II.     A student must maintain a 50% overall average in all courses to be eligible to play on Jr. or Sr. High teams.  Any student who is below the 50% average will be suspended from game play pending a teacher meeting to discuss academic standing.  If a student shows a marked improvement in their academics, the student will be allowed to rejoin the team pending coach's approval.  Sports starting at the beginning of the second semester, the first semester marks will be used.
III.    Students must be in attendance the day of the game in order to participate.  If absent a medical note is required.
IV.     A minimum of 10 players is required for volleyball and basketball teams to exist or a team will not be registered for that school year.  Students are awarded points for every sport that they participate in and are eligible to win the Tiger Participation Award.
V.      Any student who is suspended is not allowed to take part in any extra-curricular activities, during the time of the suspension.
VI.     Students and parents must sign the Parent/Athlete contract.
VII.    Students must be in good standing with the school community. A teacher has the right, in consultation with the Athletic Director, to suspend a student athlete from a team if the student is not meeting their obligations of academic success, attendance and behaviour.
VIII.   A student or parent has the right to appeal to the Athletic Director.